Fabián: the boy from Patillas who builds robots
Submitted on 6 June 2013 - 12:26pm
This article is reproduced by CienciaPR with permission from the original source.

PDF version
By:
María Cristina Cela / maria.cela@elnuevodia.com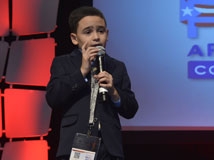 Fabián Javier Pérez Álvarez is an 8 years old boy from Patillas who was recently recognized by the Industrials Association in Puerto Rico for creating and building a submarine robot.
The original article is in Spanish. You can read it by clicking on ESPAÑOL at the top right of your screen. You can also contact our editor, Mónica Feliú-Mójer (moefeliu@cienciapr.org).