Mission: Make them fall in love with technology
Submitted on 9 April 2013 - 11:52am
This article is reproduced by CienciaPR with permission from the original source.

PDF version
By:
El Nuevo Día Educador / elnuevodiaeducador@elnuevodia.com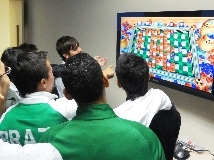 Over 110 youth from the Puerto Rico public school system attended the 4th Tecno Boyz Day, organized by Microsoft and the Department of Education (DE) and held at the Microsoft Operations facilities in Humacao.
The event sought to familiarize them with the high demand for certified staff and variety of professions associated with the high-tech industry. Tecno Boyz teaches young people the opportunities offered by technology innovation through lectures, demonstrations, workshops and interaction with employees of Microsoft and other technology industry professionals and the Government of Puerto Rico.
"The field of cybernetics and technology grows every day and, as part of our commitment to maximize the potential of people, we celebrate Tecno Boyz, an event that gives young students the tools to continue to increase their knowledge and learn different careers in the field of high technology, "said Keren Henriquez, Director of Education, Microsoft Puerto Rico.
In this edition of Techno Boyz, the event focused on entrepreneurship opportunities and employability in the areas of video games, mobile applications, software, and robotics.
---
The original news story is in Spanish. To read the full text, please click on the "Español" button below or the link at the top right of the page.