*** Dialogue on Disaster Management with Dr. Eric Cioè -Peña ***
Submitted by Marcos Lopez on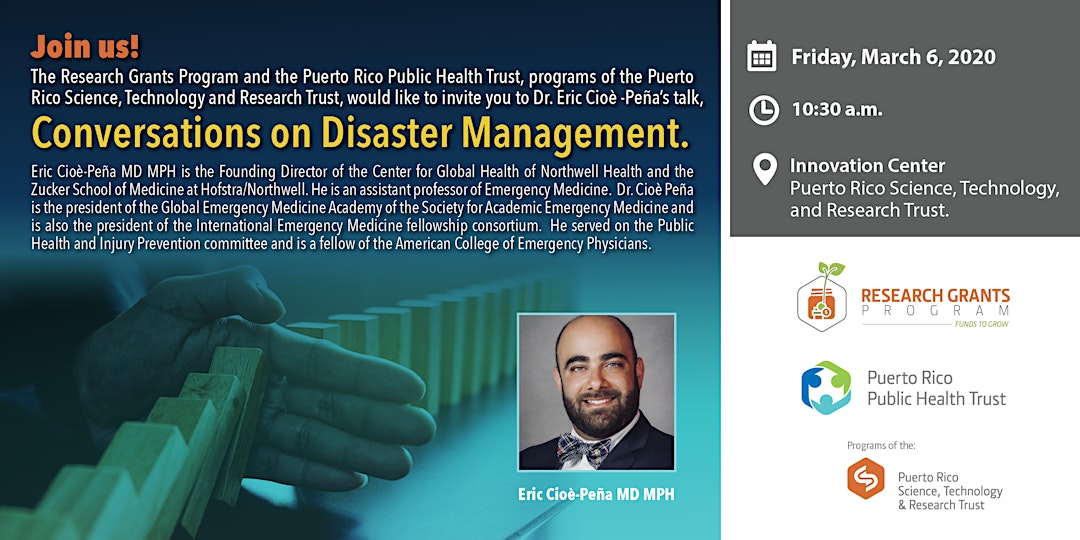 The Research Grants Program and the Puerto Rico Public Health Trust, programs of the Puerto Rico Science, Technology and Research Trust, would like to invite you to Dr. Eric Cioè -Peña's talk, Dialogue on Disaster Management.
Eric Cioè-Peña MD MPH is the Founding Director of the Center for Global Health of Northwell Health and the Zucker School of Medicine at Hofstra/Northwell. He is an assistant professor of Emergency Medicine.
Dr. Cioè Peña is the president of the Global Emergency Medicine Academy of the Society for Academic Emergency Medicine and is also the president of the International Emergency Medicine fellowship consortium. He served on the Public Health and Injury Prevention committee and is a fellow of the American College of Emergency Physicians.
When: Friday, March 6, 2020
Where: Innovation Center - Puerto Rico Science, Technology, and Research Trust (2nd floor)
Time: 10:30 a.m.
https://www.eventbrite.com/e/dialogue-on-disaster-management-with-dr-eric-cioe-pena-tickets-96987900421