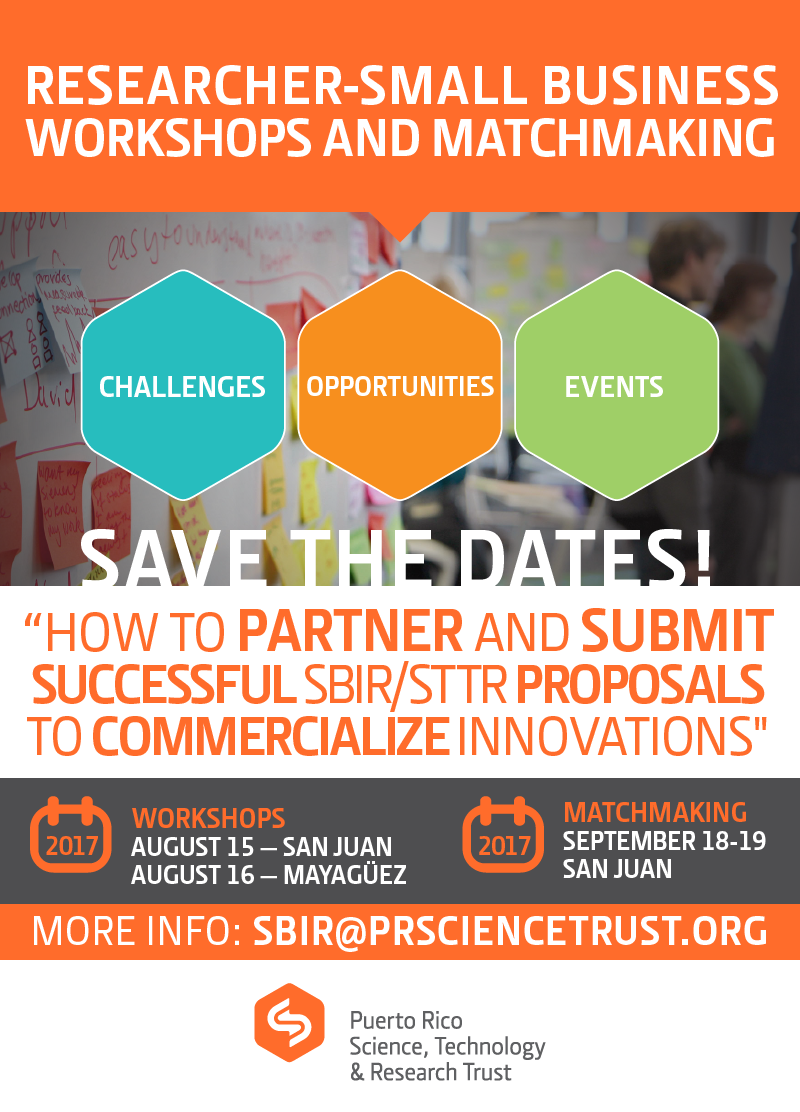 SAVE THE DATES!
Researcher-Small Business Workshops and Matchmaking
"Making R&D Collaborations that Commercialize Innovations"
August 15-16 Workshops            September 18-19 Matchmaking
Challenges
Converting innovative technology from academic research to a commercial product is a challenging undertaking. Researchers may face the difficult decision of creating a startup or partnering with an existing company, but which company? Experience indicates that the creation of a startup by the research team should not be the only solution to consider, pairing up with an existing company may be the best solution for the commercialization.
On the other side, small businesses that want to introduce improvements to their product or create a new product line face capital and research resources challenges; pairing up with researchers may be the best solution to their business challenges.
Opportunities
Small technology based businesses compete by introducing new products, technologies, and solutions, or by improving their existing capabilities to provide a clear competitive advantage. Few of these businesses have the resources to conduct the Internal Research & Development (IR&D) needed to further develop their technologies from concepts to commercial products. In addition, there are limited opportunities for the academic and small business communities to come together and explore collaborations that match needs with feasible solutions.
The Puerto Rico Science, Technology and Research Trust (PRSTRT) will address these challenges by delivering a Researcher-Small Business Matchmaking Program series of events and support for addressing IR&D needs through the Small Business Innovation Research Program (SBIR) and Small Business Technology Transfer Program (STTR) application process.
The PRSTRT will continue to provide training and support writing competitive proposals to SBIR/STTR participating agencies as it has done since Fall 2015. The Trust will also continue to match Phase I awards in the amount of $100,000.
The Events
The PRSTRT will address the challenge of the need for effective interactions between the two communities by delivering a Researcher-Small Business Matchmaking Program series of events. 
The program will include:
Matchmaking Workshop, offered at two strategic locations: San Juan and Mayagüez, by a team of professionals who will provide concepts, practices, and experienced advice on small and medium enterprises (SME)-Researcher-Small Business collaborations. 
Matchmaking Event in San Juan to offer participants a full-day of learning different perspectives from experts and obtaining information about resources available to promote and support collaborations.  This will be followed by a half-day of facilitated collaborations through one-on-one pre-arranged meetings complemented by researcher and businesses presentations.
Researcher-Small Business Matchmaking Program
Event Schedule
August 15             Researcher-Small Business Workshop
Antigua Penitenciaria Estatal Carr. # 21
Bo. Monacillos,
San Juan, Puerto Rico 00927
August 16             Researcher-Small Business Workshop
Guanajibo Research and Innovation Park
4005 Street B, Road 114 Km 1.3
Mayaguez, PR 00682
September 18    Matchmaking Event (one-day)
Universidad Metropolitana-Cupey
Muniz Souffront Amphitheater
Muniz Souffront Building1399, Avenida Ana G. Mendez
San Juan, 00926, Puerto Rico
September 19    One-on-One Meetings and Presentations (half-day)
Antigua Penitenciaria Estatal Carr. # 21
Bo. Monacillos
San Juan, 00927, Puerto Rico 
Registration information will be provided in a follow-up email soon.
For immediate questions, contact: