Deadline:
Thursday, 28 February 2013
 For the tenth year in a row the Guayacan Center will be organizing and co-sponsoring an opportunity for members of Puerto Rico's academic and entrepreneurial communities to attend :
 Price-Babson Symposium for Entrepreneurship Educators (SEE)   
Deadline to apply: February 28th, 2013 at 5:00 pm 
Follow the two step application process: 
1. Submit the on-line application by clicking here
2. Send your complete resume to vangulo@guayacan.org subject: SEE 2013 and your name. Example: SEE 2013 Pedro Pérez 
For more information about the Babson`s SEE Program  - click here  
"Price-Babson exceeded my very high expectations. It offers a unique opportunity to learn from the very best minds in the field of entrepreneurship and at the same time gain a sense of the passion that these wonderful practioners bring to their work. I can't imagine that anyone who is serious about teaching entrepreneurship would pass up an opportunity to attend."
- Past Participant 
Price-Babson SEE-21 Program
General information:
Date:                May 27- May 31, 2013
Location:         Babson Executive Conference Center  (Wellesley, Massachusetts)  
Cost:                 $2,950 per person 
(Fee includes program materials, accommodations, meals, breaks and receptions)  
Note:
Travel and ancillary costs are not included as part of the fellowship.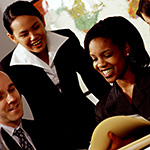 Participant Mix
This program is designed for academics or entrepreneurs from any discipline who teach or have a desire to teach entrepreneurship.   
Objectives:
 Develop highly motivated academics and entrepreneurs deeply committed to world class entrepreneurship education  in Puerto Rico
 Expose the Fellows to state of the art approaches to the teaching of entrepreneurship
 Bring best-in-class practices in entrepreneurship education back to Puerto Rico 
Partial Selection Criteria:
 Demonstrated experience and commitment to entrepreneurship education
 Prepared to make a strong commitment to work with the Guayacan Center in its education initiatives

 

A willingness to "co-invest" in this opportunity. The Guayacan Center expects to sponsor 50%-75% of the participant's cost to attend this program.
Contact:
For more information about the program or application process please contact:
Viviana Angulo Arrué 
787-6416028 Ext. 2