Descubren especie de boa color plata
Submitted on 27 May 2016 - 3:31pm
This article is reproduced by CienciaPR with permission from the original source.

PDF version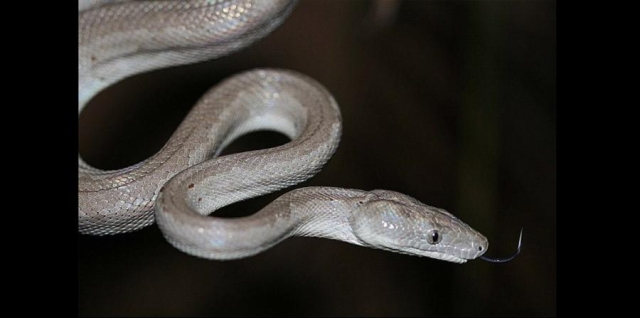 Un grupo de científicos descubrió una nueva especie de boa que tiene un llamativo color plata que inspiró su nombre.
La Boa Plata o Chilabothrus argentum fue descubierta en una isla deshabitada en el archipiélago de las Bahamas en julio de 2015, por un equipo de investigadores de la Universidad de Harvard, en el que participó el doctor Alberto Puente Rolón, profesor en el recinto de Arecibo de la Universidad Interamericana de Puerto Rico (UIPR).
Esta es la primera especie de boa que se descubre desde la década de 1940 en las Indias Occidentales, lo que lleva el número de especies de boas conocidas a 12. Esta culebra se considera en peligro crítico de extinción debido a su número reducido y al área que habita. 
El grupo de investigadores, dirigido por el doctor Graham Reynolds, encontró la nueva especie de boa durante búsquedas nocturnas, según informó la UIPR en un parte de prensa.
Hallazgo
El primer individuo avistado de esta especie fue una hembra, de un metro de largo, que subía por una "Palma de Plata"  o Cocothrinax argentata.
El estudiante graduado de Harvard, Nick Herrmann, fue quien avisó al resto del equipo de que había encontrado una culebra, y cuando llegaron corriendo al sitio se asombraron al ver la boa.
Puente Rolón, quien es experto a nivel mundial en las boas de las Indias Occidentales, exclamó que nunca antes había visto ese tipo de boa. Los investigadores empezaron a buscar y en las siguientes horas descubrieron otros cuatro ejemplares, indica el comunicado de la UIPR.
Un sexto ejemplar se acercó al grupo mientras dormían en la playa, relató el doctor Reynolds, quien despertó cuando la boa se arrastró hasta llegar a su cabeza.
Evolucionó hace millones de años
El equipo de trabajo analizó muestras genéticas de las culebras y encontró que la boa plata divergió de otras boas, hace millones de años.
En una segunda expedición en octubre de 2015, justo luego que el huracán Joaquín golpeó con dureza a las Bahamas, un grupo de investigadores encabezados por el doctor Reynolds visitó las islas donde se descubrió la boa, encontrando 14 nuevos ejemplares.
Estas culebras fueron marcadas con etiquetas electrónicas o "tags", lo que facilitara su estudio en el futuro.