Global resonance of Puerto Rican research
Submitted on 5 November 2012 - 1:27am
This article is reproduced by CienciaPR with permission from the original source.

PDF version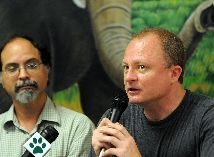 Prestigiosa revista destaca investigación de científicos del RUM
Dos catedráticos del Departamento de Biología del Recinto Universitario de Mayagüez (RUM) participaron en un proyecto internacional, denominado Mil Genomas, cuyos resultados salen publicados en la prestigiosa revista científica Nature.
Los doctores Juan Carlos Martínez Cruzado y Tarás Oleksyk figuran entre los autores de la  publicación que detalla, entre las más de mil personas estudiadas a nivel mundial, una muestra de 55 puertorriqueños a quienes se les secuenció el genoma completo.
For full text please see Spanish version.