An oasis for the pharmaceutical sector
Submitted on 15 February 2013 - 10:01am
This article is reproduced by CienciaPR with permission from the original source.

PDF version
By:
Marie Custodio Collazo / mcustodio@elnuevodia.com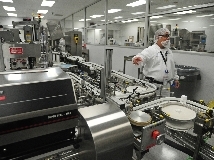 Neolpharma, a Mexican pharmaceutical group specializing in the production of generic medicines and contract manufacturing, opened operations yesterday in Caguas in a plant that used to be owned by Pfizer. The company might be a new business model for Puerto Rico, for the research and development market of "differentiated generics", a type of off-patent medicines that are more technically challenging to produce than regular generics. Neolpharma relocated to Puerto Rico, despite higher production costs, because of the talent pool of potential workers.
---
The original news story is in Spanish. To read the full text, please click on the "Español" button below or the link at the top right of the page.