Estudiantes del Arecibo Observatory Space Academy representa a Puerto Rico en conferencia internacional
Submitted on 7 June 2016 - 7:36pm
This article is reproduced by CienciaPR with permission from the original source.

PDF version
By:
Visión - El periódico del Oeste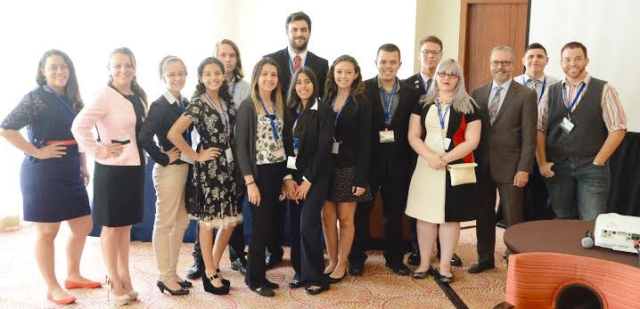 35 estudiantes del Arecibo Observatory Space Academy (AOSA) fueron seleccionados en el concurso NSS-NASA Ames Space Settlement Design Competition, entre más de 4,017 estudiantes de 23 países, gracias a su trabajo meritorio, anunció Luisa F. Zambrano-Marín, coordinadora del AOSA.

Estos estudiantes de escuela superior, representaron recientemente a Puerto Rico en la trigésima quinta Conferencia Anual de Desarrollo Espacial Internacional de la Sociedad Nacional del Espacio (NSS, ISDC por sus siglas en inglés), realizada en San Juan.

Este año el concurso tuvo 996 entradas, donde alumnos de AOSA con sus diseños titulados 'S.P.O.R.M" y "BANA Space Settlement 4.0", obtuvieron primer lugar en la categoría individual y segundo lugar en la categoría de  equipo pequeño para el duodécimo grado. Esta competencia consiste en crear espacios habitables y auto suficientes que puedan sostener la vida humana en el espacio.

Durante el ISDC, los estudiantes tuvieron la oportunidad de presentar su investigación en la sesión de afiches. Además, como representantes de la sede de este evento y como parte de la experiencia educativa fueron voluntarios, trabajando mano a mano con el comité planificador. Asimismo, junto a otros estudiantes de más de 15 países, participaron de conferencias ofrecidas por líderes en la industria aeroespacial. Los estudiantes tuvieron esta experiencia educativa gracias al auspicio del Fideicomiso de Ciencia e Investigación Puerto Rico Science, Technology and Research Trust, así como la Sociedad Nacional Del Espacio Capítulo de Puerto Rico.