AIDIS prize for Robinson School on scientific fair projects
Submitted on 18 April 2013 - 5:44pm
This article is reproduced by CienciaPR with permission from the original source.

PDF version
By:
Por María De León Cruz / Especial El Nuevo Día Educador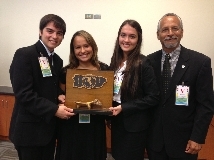 Students from Robinson School won the AIDIS-prize in a scientific fair at the Lilly Pharmaceutical.
The original news story is in Spanish. To read the full text, please click on the "Español" button below or the link at the top right of the page.