Bioluminescence in Fajardo slowly recovering
Submitted on 21 November 2013 - 1:09am
This article is reproduced by CienciaPR with permission from the original source.

PDF version
By:
Gloria Ruiz Kuilan / gruiz@elnuevodia.com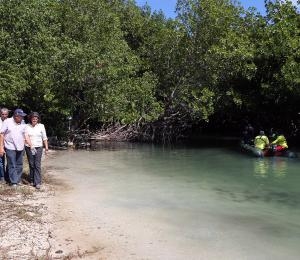 Recently the Bioluminescent Bay in Fajardo lost its glow. Suspected of this is a contruction being done by the Puerto Rico Water and Sewage company on a site near the bay. The work has been halted and the Bay seems to be slowly recovering its bioluminescence.
The original version of this article is in Spanish. You can see it by clicking on ESPAÑOL. You can also contact our editor Mónica Feliú-Mójer (moefeliu@cienciapr.org).