Investigación de la UPRRP destaca cambios morfológicos en las mariposas
Submitted on 23 June 2017 - 12:48am
This article is reproduced by CienciaPR with permission from the original source.

PDF version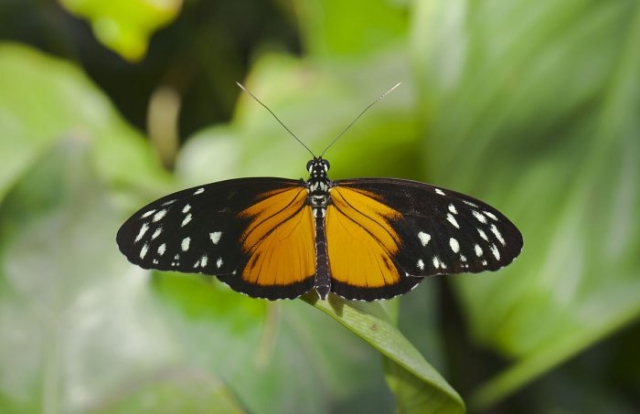 El intercambio de genes son los elementos funcionales para el desarrollo de la expresión especial de las alas de las mariposas, evidenció el resultado de una investigación liderada por Riccardo Papa, profesor del Departamento de Biología de la Universidad de Puerto Rico, Recinto de Río Piedras (UPRRP), y el estudiante graduado Steven Van Belleghem.
El intercambio de módulos genéticos existentes entre razas con distintos patrones de color puede explicar una gran fracción de la extrema diversificación observada en las mariposas Neotropicales Heliconius.
En la investigación titulada "Complex modular architecture around a simple toolkit of wing pattern genes", se secuenció 116 genomas individuales para caracterizar los cambios responsables de la variabilidad en la coloración de las alas en las Heliconius.
Riccardo Papa, Van Belleghem y Mayte Ruiz de la UPRRP, en conjunto con Owen McMillan del Instituto Smithsonian de Investigaciones Tropicales y Brian Counterman de la Universidad del Estado de  Mississippi, llevan tres años trabajando en esta investigación, se informó mediante comunicado de prensa.
El profesor Papa explicó que en los recientes años, el grupo de investigadores ha revelado la identidad de las moléculas controlando los diferentes colores, además definiendo un conjunto de herramientas de cuatro genes de desarrollo.
En el estudio, Van Belleghem y un grupo internacional consultado de investigadores de 10 universidades distintas representando las regiones de América, Europa y Australia, sugirieron que una muy pequeña porción del genoma (0.02%) es responsable de tales cambios drásticos en la morfología.
En contraste, describen cuán rápido la evolución de nuevas morfologías es alcanzada por una arquitectura genética regulatoria compleja construida alrededor de unos cuantos genes de desarrollo. Estas regiones de ADN reguladoras no codificantes (módulos) son los elementos funcionales que contienen las instrucciones para coordinar la expresión especial de los genes responsables de los patrones en áreas discretas del ala en desarrollo.
En general, este trabajo provee una nueva pista sobre el mecanismo genético controlando cambios morfológicos similares a los que inspiraron a Darwin a postular la ley de selección natural. Los autores sugieren que lo que descubrieron podría ser un sello común de la rápida diversificación morfológica en radiaciones adaptivas.
Riccardo Papa expresó que esta investigación provee una primera visión profunda de los mecanismos moleculares que generan lo que Darwin llamó "formas infinitas, cada vez más hermosas".
Los datos de esta investigación fueron publicados recientemente en la revista investigativa Nature, Ecology and Evolution, indicó el comunicado.