The Puerto Rico Consortium for Clinical Investigation will enhance health research on the island
Submitted on 14 April 2016 - 1:08am
This article is reproduced by CienciaPR with permission from the original source.

PDF version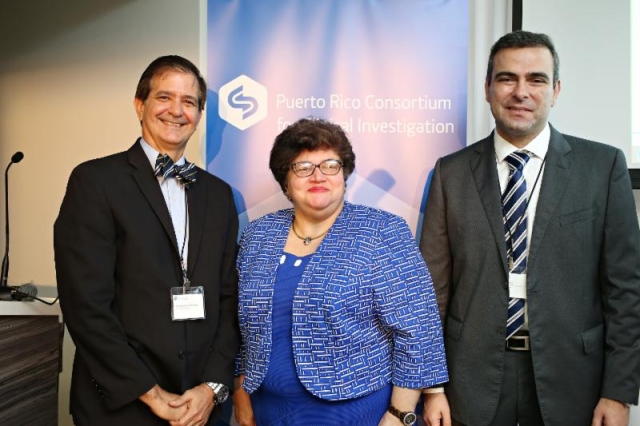 The Puerto Rico Science, Technology and Research Trust presents the Puerto Rico Consortium for Clinical Investigation (PRCCI)
San Juan – In the coming years we will see how new methodologies at a molecular level will enable medical diagnosis and treatment, customized to treat our illnesses. This predictive and personalized medicine is one of the main initiatives promoted by President Barack Obama in the area of health. One initiative that will ensure that we all have access to novel treatments, is the Puerto Rico Consortium for Clinical Investigation (PRCCI), powered by the Puerto Rico Science, Technology and Research Trust (PRSTRT).
This Consortium will enhance and enrich the development of clinical investigation conducted on the island by connecting a network of researchers with a great number of patients from a variety of backgrounds. Puerto Rico has a large, diverse patient population, specifically including Hispanics, who are currently underrepresented in clinical trials.
"With this effort, we want to change the vision of health care so that it is centered on patients and so that we have the ability to predict and prevent diseases, rather than simply diagnose and treat them. This is an important achievement for PRSTRT, which is aligned with our mission to invest, facilitate and build capacity to continually advance Puerto Rico's economy and its citizens' well-being through innovation-driven enterprises, science and technology and its industrial base", said Lucy Crespo, Chief Executive of PRSTRT.
PRCCI is focused on helping Puerto Rican patients by directly engaging and interacting with patients and patient advocacy groups. As part of the initiative, PRCCI will increase awareness of clinical trials in Puerto Rico, so patients can contribute to advancing science, helping others, and gaining access to new, innovative treatments. The patient-centric mission of PRCCI will be realized via platforms that allow patients to be heard, share clinical trial experiences, interact with other patients and volunteer interest in future clinical trials.
The new not-for-profit collaborative model will enhance clinical research quality by driving performance and efficiencies across the research site Members of the consortium. PRCCI will accomplish this through guidance from the Board of Directors, scientific advisors in Puerto Rico, and partnerships with PharmaSeek, TCRG and academic institutions here in Puerto Rico and in the mainland U.S.
The research site Members of PRCCI have a vast collective experience, working with pharmaceutical companies, biotechnology companies, clinical research organizations, government agencies and academic institutions. Sponsors that conduct clinical trials on the island will benefit from direct access to this expertise and these resources. Furthermore, through PRCCI's hands-on relationship with the research sites, PRCCI will coordinate and offer capabilities training and educational programs where required or requested. INSPIRA Clinical Research, PR Renal Health and Research,, GCM Medical Group, Grupo Dermatológico de Carolina, and Fundación de Investigación are part of the first wave of research sites joining the Consortium.
PRCCI contracts with research sites in groups of roughly ten, ensuring that all members adhere to the same PRCCI quality and performance standards. Furthermore, this provides PRCCI the opportunity to understand the unique benefits of each research site to enable promoting the Consortium to potential sponsors. The next wave of sites will follow later this year. Therapeutic areas of expertise within PRCCI include oncology, infectious disease, dermatology, musculoskeletal, gastroenterology, pulmonary, neurology, endocrinology, cardiology, and many others.
By virtue of the Consortium, PRCCI will work on behalf of its research rite members to identify and secure research opportunities, conduct contract and budget negotiations and monitor and improve quality processes. PRCCI is a collaborative organization that will enable research sites to learn from each other, discuss their experiences and share best practices.  
The Consortium's Board of Directors is composed of Dr. Kenneth S. Ramos, Professor of Medicine at the University of Arizona and member of the National Academy of Medicine; Dr. Lester Ramirez Lopez, General Retired U.S. Army and U.S. Army Medical Research and Material Command; Mr. Gil Medina, Vice President of CBRE and PRSTRT Trustee; and soon it will also be Dr. M. Larissa Avilés-Santa, Officer of the National Heart, Lung and Blood Institute at NIH.
The Executive Director of the Consortium, Dr. Kosmas Kretsos has been involved in life sciences research for more than 15 years. He was developing novel treatments for immunological disorders in Europe at UCB Pharma where he had a core pharma R&D role including leading design and execution of clinical trials in Europe and USA. Dr. Kretsos was also part of Entelos Inc., a pioneering Silicon Valley company, testing drug candidates for big pharma clients in silico, via use of virtual patients and simulated clinical trials. Seeking to further his business acumen, he accepted a role as a strategy consultant at PricewaterhouseCoopers (PwC) in London. His clients there included global pharmaceutical and medical devices companies, private equity and venture capital firms, as well as public policy organizations. Dr. Kretsos holds a Diploma of Chemical Engineering from the University of Thessaloniki, Greece, a PhD in Chemical and Biological Engineering from the State University of New York at Buffalo, USA, and an MBA from Imperial College at London, UK.
"The clinical investigations are a crucial aspect of advancing research on preventing, diagnosing, or treating diseases. The people who participate in clinical trials are our heroes, volunteering for the benefit of all of us. We need to support our heroes by enhancing quality and speed of clinical trials and at the same time allow them access to new treatment options. Clinical research also has well established societal and economic benefits as it reduces the Puerto Rico brain drain by employing highly skilled physicians, nurses, and scientists who would otherwise pursue careers abroad." said Dr. Kretsos.
Dr. Jose F. Rodríguez Orengo is a Senior Advisor to the Puerto Rico Consortium for Clinical Investigation (PRCCI) at the Puerto Rico Science, Technology and Research Trust (PRSTRT). He is Professor and Graduate Coordinator at the Department of Biochemistry, School of Medicine-Medical, University of Puerto Rico. He has been involved in clinical research since 1993, studying pharmacological aspects of HIV medications in the pediatric population. He was appointed Executive Director at the Puerto Rico Institute of Forensic Sciences in 2006 where he completed a radical transformation using lean-six-sigma approach to increase productivity and improve the quality of the processes, obtaining accreditation from appropriate educational and government agencies. He obtained his Ph.D. in Chemistry from Texas A&M University and a Post-doctoral position from Cornell University in 1989 and 1991.
About the Consortium's research site members:
Fundación de Investigación de Diego (FDI) is a first rate research site with state-of-the-art facilities and medical care clinics with access to a viable patient population for research trials whom we provide transportation services to. We have a database of healthy volunteers and the capability to conduct clinical trials at all stages of drug development, from First-in Patient, Proof of Concept (POC), to Phase 1 to Phase 4 studies.
GCM Medical Group's mission is to provide the most up to date healthcare to our patients and loved ones, while always keeping in mind the social, occupational and personal environment. Our main priority is prevention of illness through patient education on disease prevention and control.  Our current research capabilities are in Rheumatology (adults and pediatric), Dermatology, Neurology, Nephrology and Endocrinology clinical trials.
Grupo Dermatológico de Carolina specializes in dermatological patient care. With a highly specialized and experienced medical staff we count on a large and reliable patient database for clinical research. We pride ourselves for having strong recruitment strategies, high retention rates, and a rigor for excellence and quality.
INSPIRA Clinical Research is the leading local mental and behavioral health services company in Puerto Rico.  Since 2002, INSPIRA has partnered with world-class pharmaceutical companies to conduct clinical trials for psychotropic medications. In this manner, we accelerate the drug-development process while reducing costs, ensuring safety, quality, and regulatory compliance.  Our uncompromising commitment to ethical research is our most important asset.
The PR Renal Health Research Division contributes to the discovery of new treatment options for people with chronic kidney disease. Currently, our efforts and our focus are in attracting a larger number of research protocols in areas of Clinical Epidemiology, Drug Testing, Process Assessment, Cost-Effectiveness Analysis and the Economics of Health to increase the benefits of research.
About the PRSTRT: The Puerto Rico Science, Technology & Research Trust- A private nonprofit organization created in 2004 to encourage and promote the Innovation Transfer and commercialization of technology, and the creation of jobs in the technology sector. Is also responsible for Puerto Rico's public policy for science, technology, research and development. Its Mission is to invest, facilitate and build capacity to continually advance Puerto Rico's economy and its citizens' well-being through innovation-driven enterprises, science and technology and its industrial base. With a Vision that by 2022.  Puerto Rico is a globally recognized innovation hub that develops, attracts, and retains scientists, technology entrepreneurs, and enterprises to unlock world class creativity and competitiveness.