2016 Nanotechnology Summer Research Camp Graduates Students and Teachers
Submitted on 12 July 2016 - 10:42am
This article is reproduced by CienciaPR with permission from the original source.

PDF version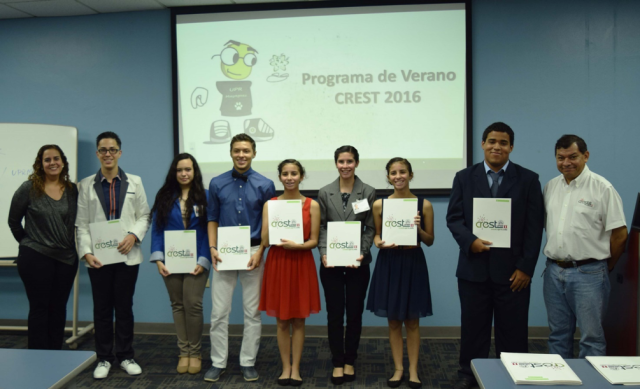 During the month of June the Center for Research Excellence in Science and Technology (CREST) of the University of Puerto Rico, Mayagüez held its traditional summer camp for high school students and its Research Program for school teachers. This summer, seven (7) high school students (10th & 11th grade) participated. We congratulate Cristina Figueroa, Angelie N. Figueroa, Coralysmarie Rosado, Cristina Crespo, Yomar J. González, Jeremy Márquez y Amir Gómez for their participation and effort. In addition, four (4) teachers participated in the research program. We congratulate Lucille Oliver, Yahaira Méndez, Sandra Crespo y Ana Caraballo of the public school districts of Moca, Aguada, Rincón, Añasco, Mayagüez, Lajas y San Germán respectively, for their passion for science and commitment to their students.
You may receive more information about CREST through the following means: crest@uprm.edu, (787) 832-4040 ext. 5812, Outreach ext. 5811, crest2.uprm.edu, www.facebook.com/UPRM.CREST, and www.facebook.com/Nanito.
For the full version of this article, please refer to the spanish version of this site.
 Prof. Agnes Padovani, Lucille Oliver, Ana Caraballo, Yahaira Méndez, Sandra M. Crespo and Prof. O. Marcelo Suárez.