Forum on genetic disorders
Submitted on 22 August 2006 - 4:47pm
This article is reproduced by CienciaPR with permission from the original source.

PDF version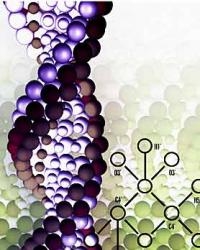 By Aurora Rivera /
arivera@elnuevodia.com
endi.com
For the first time in Puerto Rico, experts of international reputation will donate their time and next to colleagues in the Island, provide updated information on genetic and metabolic disorders. This meeting will take place next Saturday, August 26, in the University of Puerto Rico in Arecibo. There, from 8:30 a.m., health professionals and the public in general will get the most recent around on this type of conditions, whose real impact in Puerto Rico is unknown due to the lack of an official registry in the Department of Health. Doctor Alberto Santiago Cornier, one of only four geneticists in Puerto Rico, offered details of the Sixth Congress of Genetic and Metabolic Disorders organized by the Association of Children and Adults with Genetic and Metabolic Disorders of Puerto Rico. "This year we have invited very prestigious speakers from the United States, like doctors Bruce Korf, Val Sheffield and Deborah Marsden, of the universities of Alabama, Iowa and Harvard, respectively", said the physician. "We understand that it is the most complete congress on genetics in Puerto Rico. We are inviting great scientists to get together with those in Puerto Rico, so that health professionals can benefit, but the activity is open to the general public", detailed Santiago Cornier, who is pioneering the investigation of Skeletal Dysplasiain Puerto Rico and is recognized as one of 10 to 12 scientists in the world that look for genes related to this condition in a population. "This event represents the opportunity to obtain genetic medical data of first category to create public awareness of the genetic and metabolic disorders that exist in Puerto Rico. We understand that they are a serious health problem of that needs to be focused by the Department of Health for the development of a serious public policy that defines what services will be offered to this population", expressed the genetics specialist. Between the speakers figures his colleague, doctor Simón Carlo, who will talk about the genetics of growth deficiencies, causes for which many children remain small without explanation; doctor Jose Acevedo, professor at the University of Puerto Rico and who will speak of the role of nursing in the care of these conditions, and lawyer Ivette Ramos Pacheco, metabolic dietist that will illustrate the nutritional handling of metabolic disorders. In this way, the conference pretends to cover aspects like psychology, nutrition, handling and suitable education of the patients. According to Santiago Cornier, the world-wide estimate for chromosomal anomalies cases is 1 for each 150 children born alive. We talk about hundreds of conditions since each of the 23 pairs of chromosomes that define the genetics of each individual can have anomalies. In Puerto Rico, the incidence of this type of conditions is not known since, although the Department of Health has a registry of congenital anomalies, this does not reflect the reality of the genetic and metabolic disorders because most of them do not display congenital anomalies, Santiago Cornier explains. "If we knew how many children are born with these disorders each year… what our reality would be in 15 or 20 years, which we could have if we had an official registry of genetic and metabolic disorders in Puerto Rico, we could provide a better public health service," insisted the geneticist. The Puerto Rican expert recognizes that these disorders do not have the high incidence of conditions like diabetes or hypertension, but stresses that they represent a medical and public health problem that requires attention, because of the complexity of their handling, and the difficult reality that so many families face. "The fact that there are few specialists complicates the situation, because they must travel, people wait for many months (for their visits) and some of these diseases cannot wait for several months because the condition can deteriorate or not allow us to provide the optimal care", he warns. He adds that many medical insurance plans do not cover analysis, medicines nor therapies for these patients, who in their majority even need special diets. Santiago Cornier assures that prevention is extremely effective to determine a good treatment in time to avoid mental retardation and deterioration of the patient. In addition, an optimal handling would allow the maximum development of these human beings, which in his opinion is the fundamental aim. In that sense, the greater contribution of events like the Congress of Genetic and Metabolic Disorders, according to Santiago Cornier, is to educate to facilitate the diagnostic of more disorders of this nature, early diagnosis and thus prevent the deterioration of the health of more and more children. "All we want to see our children as healthy as possible, in agreement with their medical reality", honors the doctor. For more information call (787) 815-0000, exts. 3272; 3269; 3250.