Undergraduate and High School Students from Puerto Rican Institutions won several prizes at NASA Challenge Competition
Submitted on 29 April 2013 - 1:48pm
This article is reproduced by CienciaPR with permission from the original source.
By:
Alex Figueroa Cancel / alex.figueroa@gfrmedia.com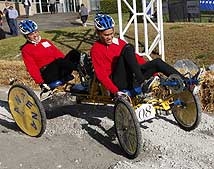 Several teams from Puerto Rican Institutions won prizes at a NASA Competition in Alabama. Some of the winners are:
University of Puerto Rico at Humacao team won the overall prize for the competition
Escuela vocacional Teodoro Aguilar Mora, Yabucoa- High School award
Escuela superior Rafaelina E. Lebrón Flores, Patillas,- won the amateur prize
Escuela superior Petra Mercado, Humacao- Best team work
University of Puerto Rico at  Mayagüez- First place in best report
The original news story is in Spanish. To read the full text, please click on the "Español" button below or the link at the top right of the page.