Vieques lagoon could be one of the most contaminated in the world
Submitted on 20 February 2013 - 4:49pm
This article is reproduced by CienciaPR with permission from the original source.

PDF version
By:
Alba Y. Muñiz Gracia/alba.muniz@gfrmedia.com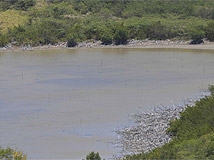 Puerto Rican scientists and environmentalists are demanding that a channel that linked the Anones lagoon in Vieques to the sea be closed and that the lagoon's grounds be opened to local researchers to perform environmental toxicity studies. The lagoon, which was part of the U.S. Marine's firing range, has been found to have lead, napalm, merucry, arsenic, and reduced uranium residues, making it one of the most contaminated bodies of water in the world. The new channel that links the lagoon's waters to the open sea, is a health risk for fishermen and consumers.
---
The original news story is in Spanish. To read the full text, please click on the "Español" button below or the link at the top right of the page.