BP-Endure Virtual Seminar: Sandeep Robert Datta, Ph.D.
Date:
Wednesday, 30 September 2020 -

5:00pm

to

6:00pm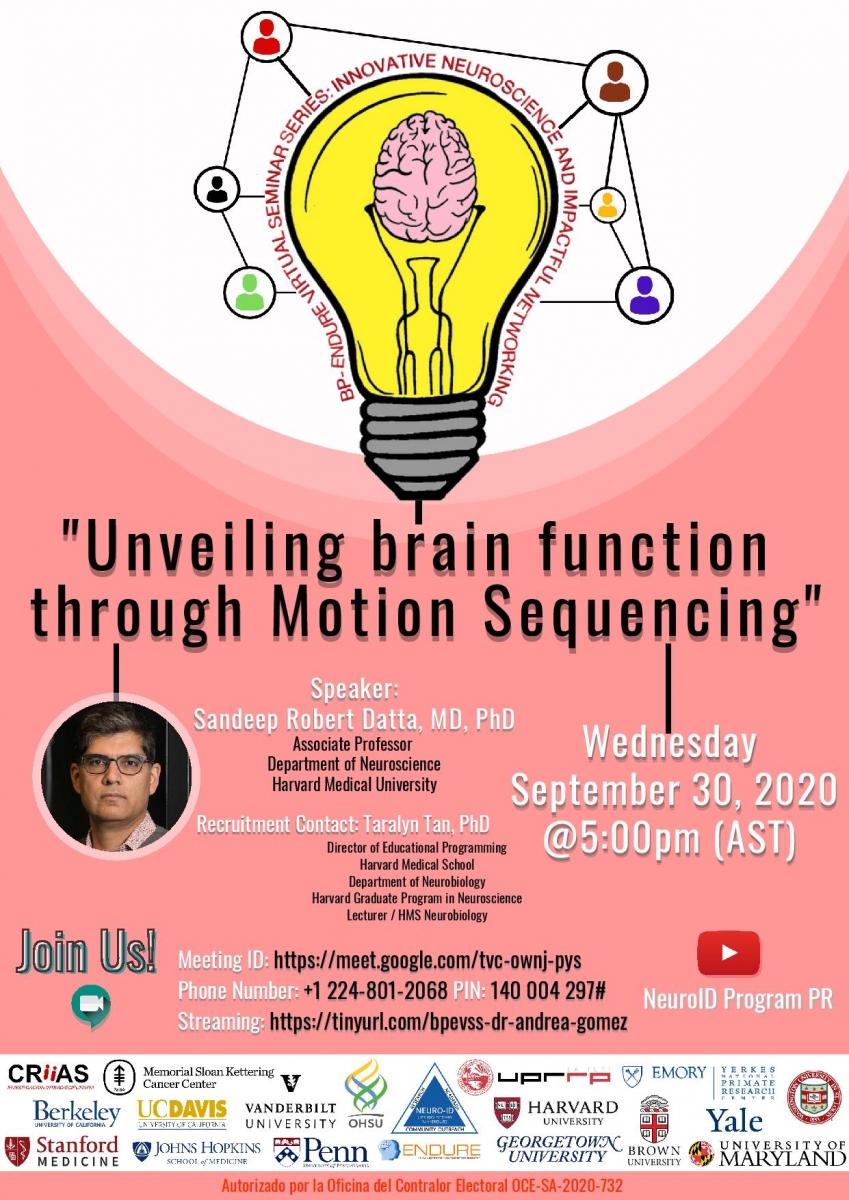 "BP-ENDURE Virtual Seminar Series: Innovative Neuroscience and Impactful Networking" es una serie de seminarios en inglés que se ofrecerá todos los miércoles durante este semestre académico. Estos seminarios contarán con la participación de neurocientíficos de nuestra red institucional quienes compartirán una variedad de temas relacionados a sus investigaciones. Además de hablar sobre temas asombrosos de neurociencia, el seminario también es una gran oportunidad para que las instituciones presenten sus programas de investigación y académicos a la audiencia. Nuestra serie de seminarios será un lugar excelente para establecer contactos y generar conversaciones entre nuestra comunidad de BP-ENDURE y las instituciones asociadas.
Estos seminarios están auspiciados por el Programa NeuroID y la persona contacto es la Sra. Marimar Velázquez-Vargas (marimar.velazquez1@upr.edu). A continuación, la información sobre el próximo seminario:
Título: "Unveiling brain function through Motion Sequencing"
Fecha:  miércoles, 30 de septiembre de 2020
Hora:  5:00pm - 6:30pm (AST)
Plataforma:  Google Meet
Meeting ID: https://meet.google.com/tvc-ownj-pys
Via Telephone: ‪ ‪(US) +1 224-801-2068     PIN: ‪140 004 297#
Live Streaming: https://stream.meet.google.com/stream/7320d69a-0f1e-41f8-9b37-4d94900e7510
Recurso:
Sandeep Robert Datta, Ph.D.
Associate Professor
Department of Neuroscience
Harvard Medical University
Contacto de Reclutamiento:
Taralyn Tan, Ph.D.
Director of Educational Programming
Harvard Medical School
Department of Neurobiology
Harvard Graduate Program in Neuroscience
Lecturer / HMS Neurobiology                         
Moderadora: 
Carmen S. Maldonado-Vlaar, Ph.D.
Professor
Department of Biology
Co-PI NeuroID Program
UPR-Río Piedras Campus

Para más información sobre esta actividad o sobre los BP-ENDURE Virtual Seminar Series, favor de contactarnos vía correo electrónico marimar.velazquez1@upr.edu / natalia.figueroa5@upr.eduu o visite nuestra página oficial http://neuroid.uprrp.edu.