SOS for a natural treasure
Submitted on 13 March 2013 - 12:02pm
This article is reproduced by CienciaPR with permission from the original source.

PDF version
By:
Aurora Rivera Arguinzoni / arivera@elnuevodia.com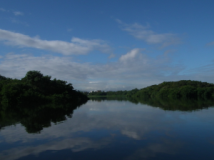 Contamination is threatening the Guachinanga island, a rare limestone formation in San Juan's San Jose Lagoon. This natural gem is home to coral fossils, rare birds and endangered native trees, and is being threatening by large volumes of trash and invasive species.
The original version of this article is in Spanish. You can read it by clicking on the Español button on the top right of your screen.